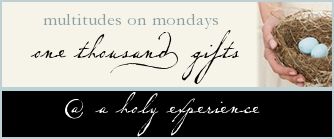 im gonna try something new again, since i can't seem to keep up with posting all the things I'm thankful for at the end of each post i will try to do it here on Mondays. the book that inspired me start listing the things I'm thankful for is called One Thousand Gifts and you can click on the image above to take you to the authors blog. it is really inspiring.... so often i find myself in a place of self pity or just feeling down, i know this is the complete opposite of what God wants from his children. he has promised us that he has our best interest in mind and that all things he sends our way are for our good and his glory, and by being thankful for the big things and the little things it keeps me always aware of what He is doing in my life and the world around me.
so i begin my list for 2012:
1- sunshine today
2- temps in the 60's in january
3- garrets fantastic week of school last week
4- really fun birthday party for my 6 year old this weekend.
5- amazing husband that helped so much with the party
6- making progress on my goals at the gym
7- healthy kids at the moment
8- finding some books i have enjoyed reading
9- raelyns toothless smile
10- jori loving her daddy
11- garret getting third place in the pine wood derby again this year
12- brenna beating me in a fun new game twice today